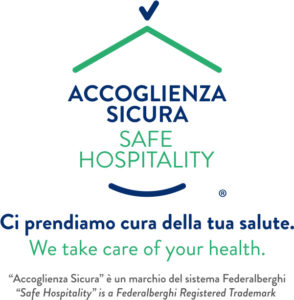 In order to protect people's health within accommodation facilities, and guarantee the safety of the environment, we inform you that we have taken some precautionary measures, as required by current regulations.
In implementation of these measures, we inform you that entry is not allowed:
- if you tested positive for Covid-19 or are in the period of an enforced quarantine;
- if you have been in contact with a case of Covid-19 in the last 14 days, or if you are coming from WHO designated risk areas;
- if you have a temperature (above 37.5°C) or other flu symptoms.
In order to protect people's health within accommodation If these symptoms start after entering the facility, you must promptly inform the company manager, taking care to stay at an appropriate distance from other people, and notify your doctor and the health authority.
By entering the facility, you undertake to comply with all the provisions of the Authorities and the rules of the company, and in particular to keep social distancing, wear a face mask when necessary and observe correct hygiene behaviour.
Our Services
We offer everything you need
Excelente localizacao, otimo atendimento, bom cafe da manha e acomodacoes...A emocao fica por conta da planta fisica... Este Hotel esta instalado num dos andares de um predio onde existe varios outros Hoteis...Entao qdo voce chega encontra a Galeria onde este se localiza...ai tem que procurar bem ate encontrar os 2 elevadores que te levarao ate a recepcao do Hotel...Voce pode parar rapidinho para descarregar. O estacionamento fica na rua de traz no mesmo predio...Mas fiquem sossegado passado este momento td funciona normalmente bem como num Hotel normal... Aconselho a assim que chegar defronte ao endereco ligar para que a recepcao oriente melhor...
Great hotel, comfortable, helpful staff, good breakfast. Highly recommended! (Federica)
Great Location and excellent customer service! The staff was very helpful and responsive.
I have been to many places, but what distinguishes the Hotel ELite is definitely the difference made by the staff, which you can see in dettaglli and treatment of every single room, and excellent breakfast!
This hotel was on the 4th and 5th floors of an older type building. It had an interesting decor. Each room had a fresco with a different theme. The information file in the room told the story of the fresco. It had other useful information , bus routes, opening times of monuments, etc. The corridors were also decorated and had seats with cushions outside each room. Entrance to the 4th floor was by an attractive iron gate and glass door. Operated from reception by a buzzer. Security was good. The reception was efficient and breakfast was varied with ham, cheese, yoghurt, cereals and pineapple or red grapefruit juice. Plus four or five types of small fancy pastries. The hotel was between via Roma and Via Maqueda, both direct routes to the Central Station. I had a very happy week .